20/12/2018
TheLEADERHoi An Golden Sea and Hanoi Golden Lake will open their doors by late 2019 and 2020.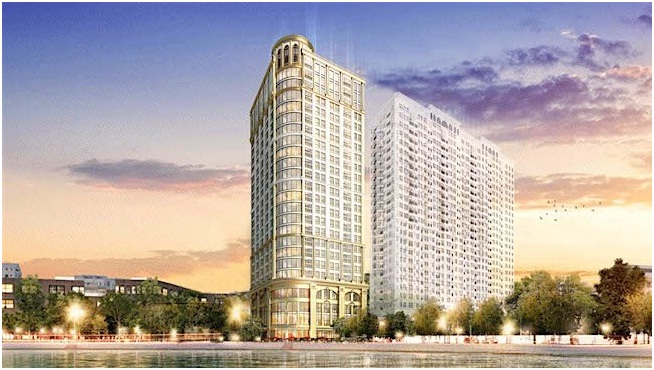 The perspective of Hanoi Golden Lake
Wyndham Hotels & Resorts yesterday signed the agreement on management and operation of Hanoi Golden Lake and Hoi An Golden Sea with Hoa Binh Group. The former is a 28 storey hotel with 446 rooms while the latter has 400 rooms. 
Speaking at signing ceremony, David Wray, vice president of Development and Acquisition, Wyndham South East Asia and Pacific Rim said: "Both of stunning new hotels featuring a collection of luxurious facilities are considered to elevate the standard of upper-upscale accommodation in Vietnam."
In Hoi An, situated on absolute beach frontage, a huge lagoon pool, island cabanas, a casino, conferencing, luxurious day spa, rooftop bar, ad restaurants, all located within minutes of ancient Hoi An City.
In Hanoi, "a golden building with retail specialty, a choice of dining, extensive conference and wedding facilities, gym, day spa, and rooftop dining on the 29th floor and a gold-plated pool," revealed he. 
Hanoi Golden Lake has completed only four basements, but chairman of Hoa Binh Group Nguyen Huu Duong feels confidence that the project will launch by the end of 2019 on the occasion of a Formula One race hosted by Hanoi for the first time.
Duong said that it is difficult to book five-star hotels in central Hanoi due to high demand but no new supply for many years. Meanwhile, F1 race will attract more tourists so the company will accelerate the pace of construction to complete the project before F1 starts. 
The chairman of Hoa Binh Group emphasized that these two hotels have the outstanding features of gold-plated four season-swimming pool that he sees as a pool of Singapore's Marina Bay Sands.
It is notable that Hoi An Golden Sea in An Bang beach will have ten rooms under the sea. There is only one room of Hilton Maldives under the sea but the price is about $50,000 per day and it does not have 24K gold-plated sanitary equipment.
The biggest difference of the projects is the price. While a customer has to pay $25,000 for a night in Hong Kong's gold-plated hotels or $2,000 in Dubai, the figure in Hanoi Golden Lake is only $250.
"Vietnam is surely one of the most exciting and dynamic countries in the world, with strong economic growth, tourism-friendly government policies and impressive infrastructure projects all contributing to surging levels of inbound international tourism," stressed David Wray. 
In the last decade, the number of overseas travelers visiting Vietnam was more than doubled, reaching new record levels year upon year.
As one of the country's most iconic attractions, Hoi An is a genuine "bucket-list" destination that draws visitors from across the world. Being the home to some of the best restaurants in all of Asia, Hanoi is now re-emerging as a true global city.
David Wray said: "It is clear that both of these destinations are in need of more international standard accommodation in a range of different market segments."